5 Questions to Ask Before Hiring a Real Estate Agent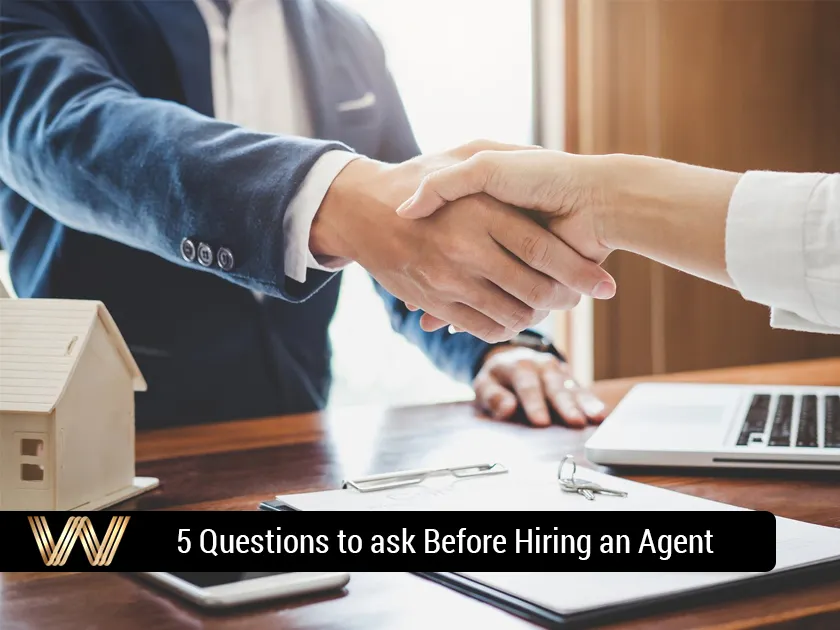 5 Questions to Ask A Realtor Before Selling Your Home in McAllen Tx
When a real estate agent stops by your home and compliments you on every single aspect of it's features, it's simple to get swept up in the moment and sign an agreement without asking the right questions initially.
Here are 5 crucial concerns you must be asking before you employ any realty professional.
Note: If you are considering selling and would like a first or consultation, we would like to help. Get in touch to reserve a totally free consultation where we can talk through the questions listed below and more.
Question 1. What's your backup strategy if my home does not sell and close quickly?
Every seller anticipates their house to be under contract in it's first few weeks on the market. While this does take place in many situations, some homes take a little longer to find their perfect purchaser. It's important that you discuss this possible result at the extremely start of the procedure, so everybody is on the very same page if the requirement occurs for a plan-b.
Employ a practical representative with a strong plan in place for all possible possibilities.
Question 2. What advertising alternatives do you suggest?
The secret here is that you wish to watch out for employing a representative who does not recommend advertising your house. They may have buyers on their books today who want to purchase your property and that's crucial, however imagine if they expose it to the free market AND those buyers on their database at the same time.
Wouldn't that increase your opportunities of protecting a premium price?
Question 3. Are you attempting to 'purchase' my listing?
Some realty agents are well-known for using an above-market appraisal figure to basically 'buy' your listing. They assure a high, potentially unrealistic sale price to lock you in as a client. Just to run the risk of disappointing you later when they can't produce offers at the inflated appraisal price after weeks on the market.
The home will need to appraise at the agreed upon "higher price" and that is determined by a neutral appraisal report ordered by the Lender, or if a Cash sale you should split the cost with the Buyer. This way you can statisfy any concerns that you sold too low.
If your home stays on the market too long, it increases it's (DOM) Days On The Market. If your home is over priced, the same agent will come back to you and say the Market has shifted lower. So you might end up selling for less than what you expected anyway.
Do not succumb to this trap. Throughout the interview, ask:
"What recent sales are you comparing my house with to come to your valuation range?"
Their estimate ought to be based on market SOLD PRICES. You want to see a healthy dose of optimism naturally, however you also wish to avoid hiring a salesperson who promises you the world and "buys your listing" with promises.
Question 4. What features will some buyers dislike about my house?
This is a test to see if the realty representative you are talking to is prepared to be sincere with you.
Yes, it's essential they are a cheerleader for your home which they are focused on its favorable features. However it's also essential that they comprehend the drawbacks of your house so they can understand and potentially overcome purchaser objections effectively.
Purchasers will bring up those shortcomings when they inspect the home during the Option Period. So your agent must be ready with honest answers for you.
It's also a test to see whether they'll have the nerve to inform you when the marketing isn't going right. Will they be strong enough to inform you which elements of your house are putting buyers off? It's essential you hire a real estate agent who will provide you accurate feedback so you can make educated decisions.
Question 5. What will you state when a buyer asks: 'How much do they desire?'
Far too often, owners don't in fact discuss 'cost talk' with their agent during the interview process. Inquire about it in advance, so you know exactly what is going to be said to potential buyers.
It's your home. You must know how its value features are presented.
Thanks for reading! Remember, if you are considering making a move, we would love the opportunity to meet with you and respond to all your questions. Contact us to schedule a totally free assessment today.
Richard Womeldorf -Your Local Expert In McAllen, TX 78504
When moving to, in, or from McAllen, you will fare better if you work with a local expert. I am here to help. If you have further questions on the McAllen real estate market, you can Contact Me here, give me a call at 956-358-3130, or drop me an email and I'll give you the local information needed to ensure a successful, smooth transaction.
Locally born and raised in McAllen, Tx with a focus on customer service, I promise you'll find great success when working with Richard Womeldorf, just as have my past Clients. You can read their reviews reported on Zillow right here.
Richard Womeldorf Real Estate Reviews.
The purpose of my Blog is to GIVE as much information as I can to help you make informed decisions.
TEXAS REAL ESTATE LAW
TEXAS LAW requires all license holders to provide the "Information About Brokerage Services" form to prospective clients. Download and Review Here!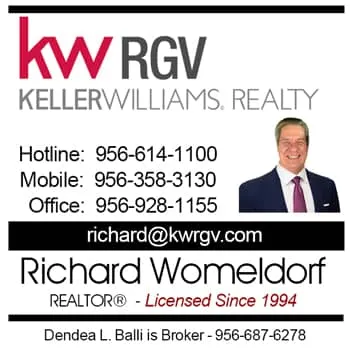 I am a Professional Marketing Expert. . .that SELLS Real Estate.
Use my 29+ years of trusted service to my Clients, to suggest the correct selling price for you as a Seller. - Contact Me Let me help you today!
It doesn't cost you to talk with me and discuss if we can work together to achieve your goals and dreams.
Do it today! Use my 24/7 Contact line shown above in photo – TEXT or CALL
Always use an Experienced Agent when buying or selling real estate.
View My Info Directory will guide you to all my information.
You can communicate and find me on my social links – Connect with me any time.