5 Reasons To Not Sell Your Home Privately In McAllen Tx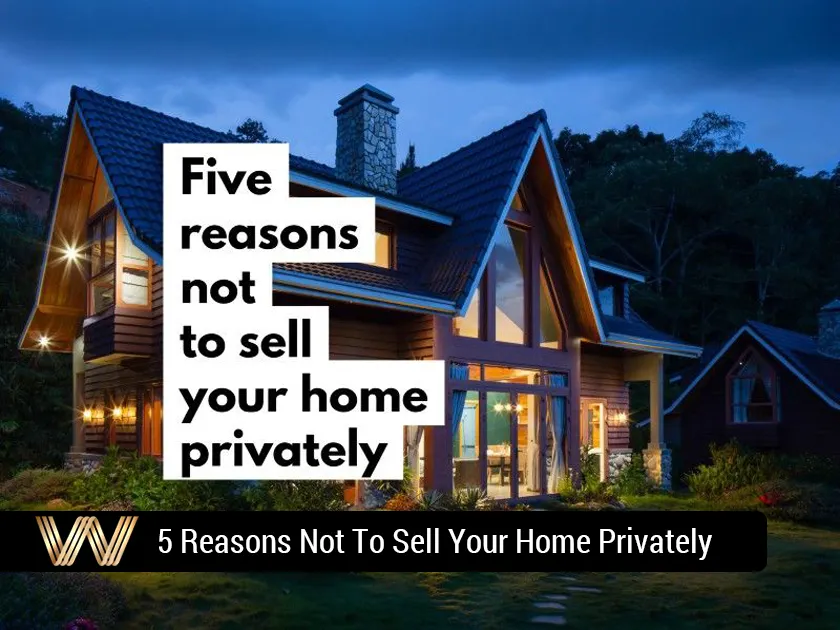 5 Reasons Not To Sell Your Home Privately In McAllen,Tx
It is totally easy to understand to be tempted by the concept of offering your home yourself, without the assistance of a real estate agent. The allure of saving time and money is strong in today's market. This is called (FSBO) For Sale By Owner.
Real Estate Brokerage costs are a large amount of money no matter what the value of your property might be. And at the start of the process, the only number you have that you can focus on is the selling cost or commission, because you have no idea what your house is going to sell for, yet.
When it pertains to private sales, there are traps to watch out for however. Let's go through them:
1. You have to deal with master negotiators.
There is a reason experienced home investors target owners offering their houses privately: They are anticipating to gain an advantage and a bargain.
When you offer your home independently, it's the real estate's equivalent of playing tennis against a professional athlete, with hundreds of YOUR dollars at stake.
Are your negotiating abilities up to the job?
2. You do not know what you might be losing out on.
In the majority of realty markets, it's easy to sell your home independently. What is challenging is coordinating Multi-Offers. Let's say you have 5 people shopping your house at the same time, are you going to run an Auction? A deadline sale? Or will you just take the first offer at your asking price?
In real estate, competitors between purchasers is the key to achieving a premium sale price. A good real estate agent has actually systems in place to manage interest from numerous purchasers to ensure you walk away with the very best possible outcome.
3. Market research takes some time. A great deal of time.
Prior to you can understand what your house might bring, you should learn more about your local market. That implies going to many open houses and chasing up agents to learn what those houses sold for. In Texas, all final sales are private information since Texas is a "Non Disclosure" state. The property owners may share that information, but the odds are against you.
So how do you compare them to your home to come up with an estimated worth to establish a starting point for an asking price?
Avoid this step and you may end up offering your home for far less than what it is actually worth. Additionally, you could wind up overpricing your home and struggle to discover a purchaser in a sensible time period.
4. You miss out on essential marketing channels.
Some of the busiest real estate websites only permit properties to be noted by certified real estate representatives. When you offer your house privately you could be losing out on a big portion of the marketplace. Consisting of buyers who might be ideal for your house, however have no knowledge it's for sale.
5. Buyers make decisions based upon price and condition.
Picture several buyers coming through your home, and at times that may not be convenient for you. You then receive several offers ranging from extremely low to "just not enough" for your home. How do you know which offer NETS you the best final amount in your pocket?
Shortly after, one or two buyer(s) tell you another home came on the market for sale and you are now in competition ... They then use your home's condition to bargain their way to a lower price.
Do you believe them?
If you like most sellers, then you would be naturally skeptical.
"Is this simply a tactic to get me to lower my price?"
Now imagine that you have handle 3 or 4 home buyers and miss out in a competitive market each time. Many are professional investors, but a few may be individual buyers looking to buy a new home. The difference is stark in professionalism but the same in another way.
In a hot market, Buyers HAVE the money or ability to secure a loan -- and the Seller is NEEDING the money to sell their home. Even when it is a Seller's market, and you deem to have an advantage, the ultimate edge still is in the Buyer's side. Buyers want a good deal. Buyers that are buying to "fix up and flip" homes want a VERY GOOD DEAL!
This level of negotiating and understanding how to navigate multi offers is critical in securing the best outcome for your family.
As an experienced local agent, I have over 29+ years in handling marketing and negotiating successful transactions. I know you don't want to list with an agent, so let me help you with your new purchase. I would love to represent you when you are ready to move.
Richard Womeldorf -Your Local Expert In McAllen, TX 78504
When moving to, in, or from McAllen, you will fare better if you work with a local expert. I am here to help. If you have further questions on the McAllen real estate market, you can
Contact Me here
, give me a call at
956-358-3130
, or
drop me an email
and I'll give you the local information needed to ensure a successful, smooth transaction.
Locally born and raised in McAllen, Tx with a focus on customer service, I promise you'll find great success when working with Richard Womeldorf, just as have my past Clients. You can read their reviews reported on Zillow right here.
The purpose of my Blog is to GIVE as much information as I can to help you make informed decisions.
TEXAS REAL ESTATE LAW
TEXAS LAW requires all license holders to provide the "Information About Brokerage Services" form to prospective clients.

Download and Review Here!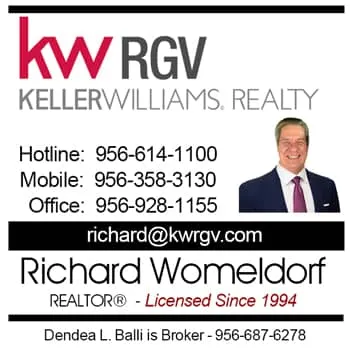 I am a Professional Marketing Expert. . .that SELLS Real Estate.
Use my 29+ years of trusted service to my Clients, to suggest the correct selling price for you as a Seller. -
Contact Me
Let me help you today!
It doesn't cost you to talk with me and discuss if we can work together to achieve your goals and dreams.
Do it today! Use my 24/7 Contact line shown above in photo – TEXT or CALL