Do Late HOA Fees Affect My Credit Score?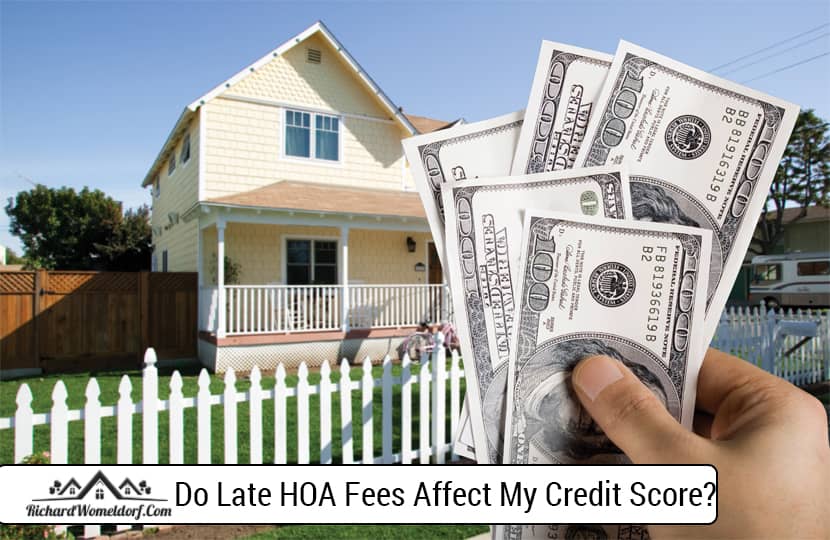 A major credit reporting agency says, "It will soon take into account HOA (Home Owner Association) fees." Home Owners who are late on their HOA fees may soon see the effect on their credit scores.
Homeowner associations can be great for neighborhood maintenance, settling disputes and enforcing community guidelines, but all of those benefits come with a cost: the association dues.
A good chunk of American homeowners agree to pay them — nearly 25%, according to RealtorMag.org — but unlike the mortgage, insurance and tax costs those homeowners also must pay, HOA fees aren't reported to credit bureaus. Until now.
Credit data aggregator Sperlonga has agreed to become the first company to furnish HOA payment and account status data to Equifax Inc., one of the three major credit reporting agencies. Reporting will be tested in August with a full roll out planned in the October 2016. According to the Community Association Institute, homeowner associations and property management companies collect approximately $70 billion in HOA payments each year through at least 333,000 community associations.
For years, experts in the credit scoring industry have talked about the value of adding things like rent payments and utility bills to credit scores as a way of giving more people access to credit. It's something they refer to as alternative data.
"Until now, HOA payments have gone largely unreported to the national credit reporting agencies. Our service will help elevate association payments to the same level of importance as the consumer's other financial obligations like residential mortgages, auto loans and credit card payments," said Matt Martin, chairman and founder of Sperlonga, in a prepared statement. "Property owners that pay HOA fees on time should begin to see the similar impact to their credit reports as they would with other payment obligations traditionally found in a credit report."
Of course, now property owners who are late or delinquent with HOA payments could likewise see a negative impact on their credit scores, just as they would with a late mortgage payment.
"Introducing new sources of data beyond what has traditionally been found on credit files can provide additional insight into a consumer's financial behavior and help deliver expanded credit access," Mike Gardner, senior vice president at Equifax, said in a press release.
You have a legal right to access the information consumer reporting agencies collect about you and dispute any inaccuracies. So, if you're wondering which of your account payments might be reflected on your credit report, it's a good idea to track your credit by pulling your free annual credit reports each year. You can also see how the data being reported is affecting your credit standing on a more frequent basis by checking your two free credit scores, updated every month on Credit.com.
Source: Sperlonga and "Your HOA Payments May Now Affect Your Credit Score"-(May 4,2016)
Richard Womeldorf -Your Local Expert In McAllen, TX 78504
When moving to, in, or from McAllen, you will fare better if you work with a local expert. I am here to help. If you have further questions on the McAllen real estate market, you can Contact Me here, give me a call at 956-358-3130, or drop me an email and I'll give you the local information needed to ensure a successful, smooth transaction.
Locally born and raised in McAllen, Tx with a focus on customer service, I promise you'll find great success when working with Richard Womeldorf, just as have my past Clients. You can read their reviews reported on Zillow right here.
Richard Womeldorf Real Estate Reviews.
The purpose of my Blog is to GIVE as much information as I can to help you make informed decisions.
TEXAS REAL ESTATE LAW
TEXAS LAW requires all license holders to provide the "Information About Brokerage Services" form to prospective clients. Download and Review Here!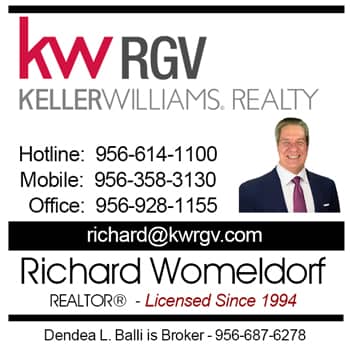 I am a Professional Marketing Expert. . .that SELLS Real Estate.
Use my 27+ years of trusted service to my Clients, to suggest the correct selling price for you as a Seller. - Contact Me Let me help you today!
It doesn't cost you to talk with me and discuss if we can work together to achieve your goals and dreams.
Do it today! Use my 24/7 Contact line shown above in photo – TEXT or CALL
Always use an Experienced Agent when buying or selling real estate.
View My Info Directory will guide you to all my information.
You can communicate and find me on my social links – Connect with me any time.