First Time Home Buyer Mistakes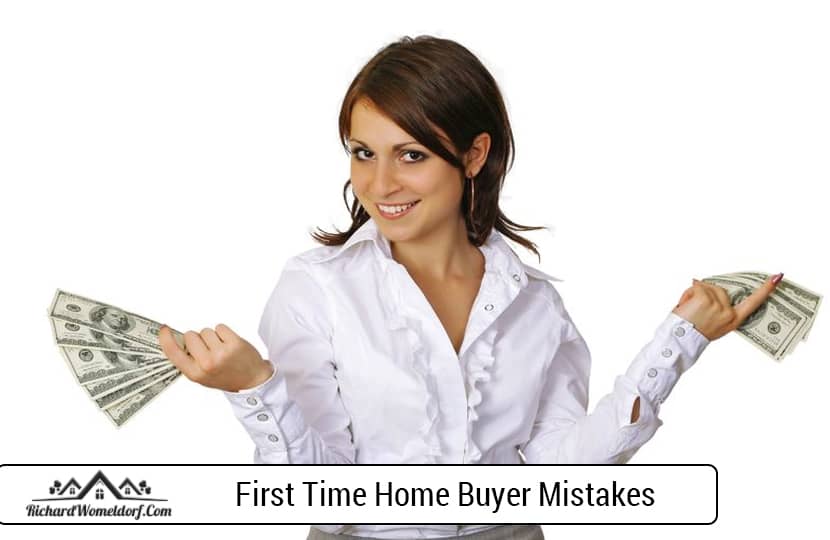 You have seen them before. I am talking about a list of mistakes first time home buyers make. The mistakes are really just actions that people take, that seem logical, which end up costing money or time, when closing a home sale.
I am sure I will create another one later on, but here is my "newly refined" First Time Home Buyer Mistakes.
Failing to Budget for a Home Loan
Home ownership is a cheaper alternative to renting in the long run. But in the beginning, it can be much pricier. This is especially true if you intend to get a loan to purchase your dream house.
If you do acquire a loan, remember that you will be making monthly mortgage payments for a number of years.
Therefore, it is important to budget for a home loan, beforehand. You need to determine whether your income can accommodate an extra expense or not.
If you are unable to afford making monthly payments on your home loan, it would be a mistake to try to own a house at this time.
Ignoring Your Credit Score
If you thought that finishing school meant being done with competitive scoring, think again!
Apparently, your creditworthiness can be summarized in just 3 digits. Those three numerals will draw the line between owning a house and renting one.
Even if you have an impeccable sense of financial responsibility right now, your credit past can haunt you. You could have a hard time getting a home loan if your past record shows problems with payments, or if there's an error in your credit report.
If you go ahead and apply for a mortgage loan without checking your credit score, you could end up paying a lot more than you expected.
It's best to perform a credit check beforehand. This way, you will be allowed to get loans without being obligated to pay hefty amounts in interest.
Disregarding Housing Marketing Trends
Just like other financial markets, the housing market fluctuates from time to time. Sometimes it favors the buyers, and sometimes it favors the sellers.
There are a number of factors that affect housing marketing trends. This includes the ratio between supply and demand, interest rates and the overall condition of the economy.
It's also imperative that you consider how the housing market changes in your ideal location, as home prices vary from one location to another.
If you disregard housing marketing trends when hunting for a house for sale, you might end up signing for a deal that favors the seller.
Lack of a Pre-Approved Home Loan
Some people are anxious to shop for a house and want to do it quickly, before they are financially able to afford it.
If you have already started talking to sellers before having a hard talk with home loan lenders, you are making a mistake. In fact, not many sellers will want to work with you if you promise them a certain amount and then can't fulfill that promise.
To avoid any disappointments, it's wise to have your home loan Pre-Approved first, then go ahead and look for a house to buy.
Settling on a Verbal Agreement
Double crosses are bound to happen when agreements are made verbally. It would be difficult for you to prove in court that a promise was made or a handshake was made.
Therefore, it's best that you and the seller get everything down in writing to avoid future miscommunications.
This way, you will have something to present in court should the seller fail to keep their word.
Disregarding Hidden Costs
This is another common mistake that many first-time home buyers often make.
If you neglect to prepare for hidden fees, you might be in for a big surprise. Closing costs are a good example of hidden fees, which usually include a number of fees that cover final housekeeping matters.
Before signing the home buyer's agreement, it would be wise on your part to determine what hidden fees are there.
Ignoring Professional Home Inspection
You will be making a costly mistake if you rely on the seller or real estate agent to inform you about the house problems you should expect.
Before you make any payment towards the purchase of the house, it's imperative that you first hire a professional home inspector to ascertain that the house is in good condition.
Following your "Love-at-First-Sight" Gut
Not everyone or everything that you fall in love with at first sight ends up being your one true love. A house may appear to be everything you ever dreamed of, but it might not live up to your expectations.
Before following a dream-house blindly, be sure to check it out thoroughly. Make sure it presents you with all the right qualities that make it a perfect home for you and your loved ones.
Being Indecisive
As much as it is unwise to rush into making a purchase, it is equally imprudent to take too long without making up your mind. If you take too long to make a decision, another home buyer will take advantage of your indecisiveness and buy your dream house.
Since market trends change from time to time, you could also find out that the house you took too long to buy has a new (and higher) price tag attached to it.
Relying on Online Services Only
Now that many services are obtainable at the click of the mouse, most people have become too dependent on them.
It's true that loans can be obtained online and houses can be bought online as well.
But failure to establish personal touch with lenders or home sellers could present a huge and costly misunderstanding in future.
Forgetting the Costs Associated with Owning a Home
Just like a car, a home requires money to maintain. The pain of parting with your hard-earned cash will not end on the day you finish your last mortgage payment.
You have to brace yourself for other costs for maintaining a safe, secure, and environmentally friendly home.
You have to also be ready to meet certain costs such as association fees, insurance, taxes, utilities, maintenance and major/minor repairs, etc.
Entering into Multiple Agreements
While it's a smart thing to compare different houses before buying, you might end up biting off a lot more than you can chew.
This is especially true if you meet up with sellers and make offers or promises that you don't intend to honor.
Before entering into any agreement with a seller or a realtor, it's imperative you ensure that you are ready to honor your end of the deal.
If you can avoid the above mentioned mistakes that are commonly made by first-time buyers, you will be more like a pro home buyer instead of a rookie.
Avoiding these mistakes can help you make the right choices when it comes to finding a home you and your family can take pride in. Keeping in mind the resale value will also help you avoid problems moving on in the future.
Your Local Expert In McAllen, TX 78504
When moving to, in, or from McAllen, you will fare better if you work with a local expert. I am here to help. If you have further questions on the McAllen real estate market, you can Contact Me here, give me a call at 956-358-3130, or drop me an email and I'll give you the local information needed to ensure a successful, smooth transaction.
Locally born and raised in McAllen, Tx with a focus on customer service, I promise you'll find great success when working with Richard Womeldorf, just as have my past Clients. You can read their reviews reported on Zillow right here.
Richard Womeldorf Real Estate Reviews.
The purpose of my Blog is to GIVE as much information as I can to help you make informed decisions.
TEXAS REAL ESTATE LAW
TEXAS LAW requires all license holders to provide the "Information About Brokerage Services" form to prospective clients. Download and Review Here!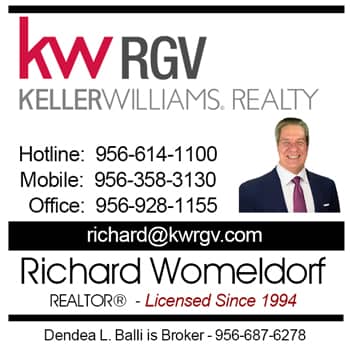 I am a Professional Marketing Expert. . .that SELLS Real Estate.
Use my 27+ years of trusted service to my Clients, to suggest the correct selling price for you as a Seller. - Contact Me Let me help you today!
It doesn't cost you to talk with me and discuss if we can work together to achieve your goals and dreams.
Do it today! Use my 24/7 Contact line shown above in photo – TEXT or CALL
Always use an Experienced Agent – My Info Directory will guide you to all my information
You can communicate and find me on my social links – Connect with me any time.