Home Owner Tax Deductions
Finding ways and means to accumulate the extra cash might appear quite elusive.
But a number of tax credits and tax deduction options have been designed to make it easier for buyers to buy their first homes.
First-time buyers can get a tax credit of up to $8000, thanks to the various federal and state grants and other buyer-friendly schemes of the government.
Who can qualify for tax credits?
As per as the rules laid down by the HUD (Housing and Urban Development), only an individual who meets certain conditions can be considered a first-time residence buyer.
A person who hasn't owned a residence during a tenure of three years, till the day of purchase of the property. The same rules apply to a person's spouse as well.
Any single parent who owned a house jointly with their former spouse during the time they were married.
Someone who has owned a property, that wasn't permanently affiliated to any foundation as per the proper regulations.
If a person owned a residence which didn't comply with the state or local building costs, then the person will be considered as a first-time home buyer.
Another important thing to note is the difference between tax credit and tax deduction. Often people think both these terms are essentially the same.
However, they're not. Tax deduction actually reduces your taxable income. But, a tax credit is a reduction in the amount of taxes you owe to the government. You can save a considerable amounts of money with a tax credit.
Mortgage Payment Interest Deduction
This is fairly well known. Nevertheless, this is one of the most beneficial tax breaks that home buyers can take advantage of.
The Mortgage Interest Deduction, or MID, is valid for loans up to $1 million. It covers the interest paid on the loans. The MID scheme is very useful for people with new loans, since their interest rates are usually higher.
Home buyers will receive a large chunk of the tax benefit upfront, since the first repayments have the highest value of interest.
To claim the MID benefit, a home buyer will have to file an itemized tax return.
Mortgage Credit Certification
The Mortgage Credit Certification is another program that helps thousands of first-time home buyers secure a tax break. The IRS stated that the program is aimed at helping the lower-income groups afford their first home.
This scheme is different from the deduction scheme since it reduces the amount of taxes you owe.
Depending on the price at which you purchased your home, you can get back up to 30% of the interest you pay as tax credit. Although the program is not that popular, it can be really helpful to first-time buyers.
You can get a considerable amount of money back every year.
It's important to note that the program is administered by local authorities and can vary according to the state you live in.
To qualify for this tax credit, you will need a Mortgage Credit Certificate issued by the local government.
IRA Withdrawals
Getting ready to buy your first home? Don't overlook getting some money from an IRA, because you are eligible for a sum of $10,000.
This money can help you cover the down payment and other ancillary costs, as well. As an added bonus, first-time home buyers won't have to pay the 10% penalty which is usually applied to early withdrawals.
Since every individual is entitled to get a lump sum of $10,000 from their IRA accounts, you can use this policy to your advantage.
Home improvements
Home improvements can earn you tax deductions in multiple ways.
You can use a home-improvement loan to finance the cost of improvements in your home.
These loans also qualify for MIDs, as mentioned above.
The interest on a home-improvement loan is deductible in full, up to a sum of $100,000 in debt.
This will help you keep track of the home improvement costs. When you decide to sell your house, you just add the improvement cost to the value of your property.
If the selling price of your home is more than you had spent to procure it, then the extra income will be considered taxable.
You can reduce the value of this taxable income by adding the home improvement costs. This can help you save a big chunk of money in taxes during the sale.
Home Office Deduction
Are you a freelancer, just like me? Well, you are in for some good luck.
The amount of space in your home that is dedicated towards official activities is tax-deductible. This deduction will include loan interest, insurance amount, other utilities and repairs.
However, there are certain guidelines for taking advantage of this deduction.
Home Energy Tax Credits
The IRS rewards homeowners who make efforts to create eco-friendly homes.
The Residential Energy Efficiency Property Credit can cover the costs that are spent towards making the home more energy efficient.
Homeowners can save around 20-30% of the costs incurred for installing energy efficient appliances.
Another important factor is that it counts as a credit, which means it will reduce your tax bill, directly.
To apply for this tax credit, you must invest in appliances that harness energy from renewable sources. Examples of these sources are solar panels, wind turbines, fuel cells, etc.
These are not the only options, there are certain other tax breaks and tax credit policies as well.
Make sure you consider all the tax deductions and tax credits to get the maximum benefit out of these options.
I also have informative guides for ways of getting a loan using VA, FHA, and Conventional loans. There are many unknown tricks to lowering your Interest Rate, reducing what your down payments is, and in some cases Zero down payment with some or all of your closing costs paid for. There are many financing assistance programs out there for Teachers, Military, Police, Firefighters, Veterans, and so much more.
I have to know about these to help people and provide clients with enough information to talk with their Mortgage Lender. I also can point you in the right direction to Lenders that are familiar with these programs. Use the contact info below and reach out to me.
Richard Womeldorf -Your Local Expert In McAllen, TX 78504
When moving to, in, or from McAllen, you will fare better if you work with a local expert. I am here to help. If you have further questions on the McAllen real estate market, you can Contact Me here, give me a call at 956-358-3130, or drop me an email and I'll give you the local information needed to ensure a successful, smooth transaction.
Locally born and raised in McAllen, Tx with a focus on customer service, I promise you'll find great success when working with Richard Womeldorf, just as have my past Clients. You can read their reviews reported on Zillow right here.
Richard Womeldorf Real Estate Reviews.
The purpose of my Blog is to GIVE as much information as I can to help you make informed decisions.
TEXAS REAL ESTATE LAW
TEXAS LAW requires all license holders to provide the "Information About Brokerage Services" form to prospective clients. Download and Review Here!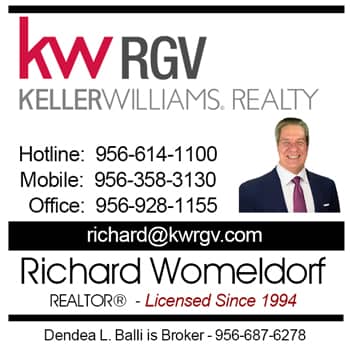 I am a Professional Marketing Expert. . .that SELLS Real Estate.
Use my 27+ years of trusted service to my Clients, to suggest the correct selling price for you as a Seller. - Contact Me Let me help you today!
It doesn't cost you to talk with me and discuss if we can work together to achieve your goals and dreams.
Do it today! Use my 24/7 Contact line shown above in photo – TEXT or CALL
Always use an Experienced Agent when buying or selling real estate.
View My Info Directory will guide you to all my information
You can communicate and find me on my social links – Connect with me any time.