Home Owner Upgrades To Kitchens and Bathrooms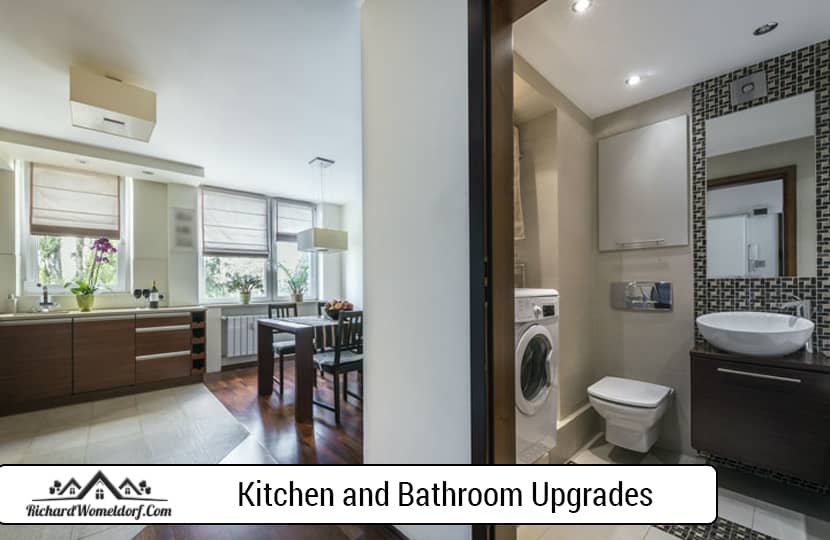 In today's blog post, I would like to talk about an issue I run into almost every time I list a home for sale.
The scenario is simple and here is the example. A home owner has a dated home and wants to place it on the market for sale. The Seller asks different Real Estate Agents this question. "If I wanted to sell my older home, which upgrades are Buyers looking for?"
Most Agents would reply. "Buyers are looking for updated kitchens (the most requested feature) and updated bathrooms."
Here is the problem. Even if the Seller spent $20,000 to $30,000 on an upgrade job and immediately placed their home on the market…They would not get back a "dollar for dollar" return on what they spent. WHY?
There is a difference in Cost of Investment and Market Value when selling.
Now I was reading my REALTOR® magazine and came across this article. Home owners are taking on larger remodeling projects", according to a survey conducted by the National Association of Home Builders Remodelers, an arm of the NAHB.
"While bathroom and kitchen remodels remain the most common renovations, basements, whole house remodels and both large and small scale additions are returning to levels not seen since prior to the downturn," said 2016 NAHB Remodelers Chair Tim Shigley, CAPS, CGP, GMB, GMR, a remodeler from Wichita, Kan.
Remodelers report some projects have seen notable increases since 2013: whole house remodels rose by 10 percent; room additions rose by 12 percent; finished basements increased by 8 percent; and bathroom additions jumped 7 percent.
Bathrooms have topped the list of most common remodeling jobs since 2010 in the survey. Eighty one percent of remodelers report taking on a bathroom remodeling project. Seventy nine percent report taking on a kitchen remodel.
The following were the most common remodeling jobs in 2015, according to NAHB's Remodeling Market Index Survey:
Bathroom remodeling: 81% of remodelers reported job as common
Kitchen remodeling: 79%
Whole house remodeling: 49%
Room additions: 47%
Windows/door replacement: 36%
Finished basement: 30%
Bathroom additions: 28%
Repairing property damage: 27%
Decks: 26%
Roofing: 25%
Handyman services: 20%
Siding: 20%
Second story additions: 17%
Enclosed/added garage: 16%
Enclosed/added porch: 16%
Historic preservation: 10%
Finished attic: 4%
Source: "Kitchen and Bath Remodeling More Common Than Ever in 2015," National Association of Home Builders' Eye on Housing (May 3, 2016)
OK, that was an interesting read. Those percentages are National numbers.
To continue my story, now take what you just read and here is where PRICING your home correctly for the Market AND what a Home Owners "think" their remodeling has added to the value of their home, are two different numbers. (whew, that was a mouth full)
I have a software program that taps into National percentages that can add or subtract improvement dollars and give you today's depreciated value when added to a home.
What you will find is TWO totally different points of view when applying remodeling "cost" dollars in relationship to "added value" dollars to home pricing. LINK TO THAT ARTICLE.
SUMMARY
If you want to compete in today's Market and get the most out of your home sale, upgrading the kitchen is Number One on the list. Upgrading the bathrooms also are a good investment. Be cautious though. This is NOT a DOLLAR for DOLLAR payback.
I found a software program that uses the National Averages with breakouts on a Regional costs versus value added based on location. Here is how it works.
It uses our local SOLDS, LISTINGS, and For Sale By Owner (FSBO) data from the local MLS system and Zillow FSBO data. This part is the same as most Agents use to determine a value for a person looking to sell their home. Determining a "Market Value" is CRITICAL in selling your home for the most money in the shortest possible time frame.
Next, an Agent would gather all of your improvement history, the dollars spent on the improvement, the month and year of the work completed. The data is entered into the program and it ADDS or SUBTRACTS VALUE based on the localized National Averages data.
You will be surprised at what the figures show on some items. Using this system is the only way to really figure out a "Market Value" for your home, prior to placing it on the market to sell. It is just another tool that I have that is unique from other Real Estate Agents in the area. So my question is – – Are you ready to list your home?
Richard Womeldorf -Your Local Expert In McAllen, TX 78504
When moving to, in, or from McAllen, you will fare better if you work with a local expert. I am here to help. If you have further questions on the McAllen real estate market, you can Contact Me here, give me a call at 956-358-3130, or drop me an email and I'll give you the local information needed to ensure a successful, smooth transaction.
Locally born and raised in McAllen, Tx with a focus on customer service, I promise you'll find great success when working with Richard Womeldorf, just as have my past Clients. You can read their reviews reported on Zillow right here.
Richard Womeldorf Real Estate Reviews.
The purpose of my Blog is to GIVE as much information as I can to help you make informed decisions.
TEXAS REAL ESTATE LAW
TEXAS LAW requires all license holders to provide the "Information About Brokerage Services" form to prospective clients. Download and Review Here!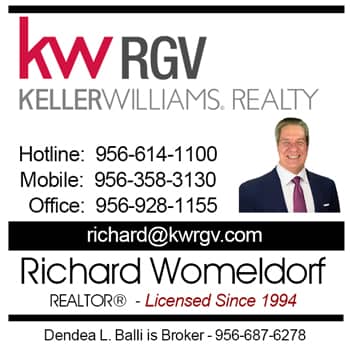 I am a Professional Marketing Expert. . .that SELLS Real Estate.
Use my 27+ years of trusted service to my Clients, to suggest the correct selling price for you as a Seller. - Contact Me Let me help you today!
It doesn't cost you to talk with me and discuss if we can work together to achieve your goals and dreams.
Do it today! Use my 24/7 Contact line shown above in photo – TEXT or CALL
Always use an Experienced Agent when buying or selling real estate.
View My Info Directory will guide you to all my information.
You can communicate and find me on my social links – Connect with me any time.