How To Buy A Home When I Have One To Sell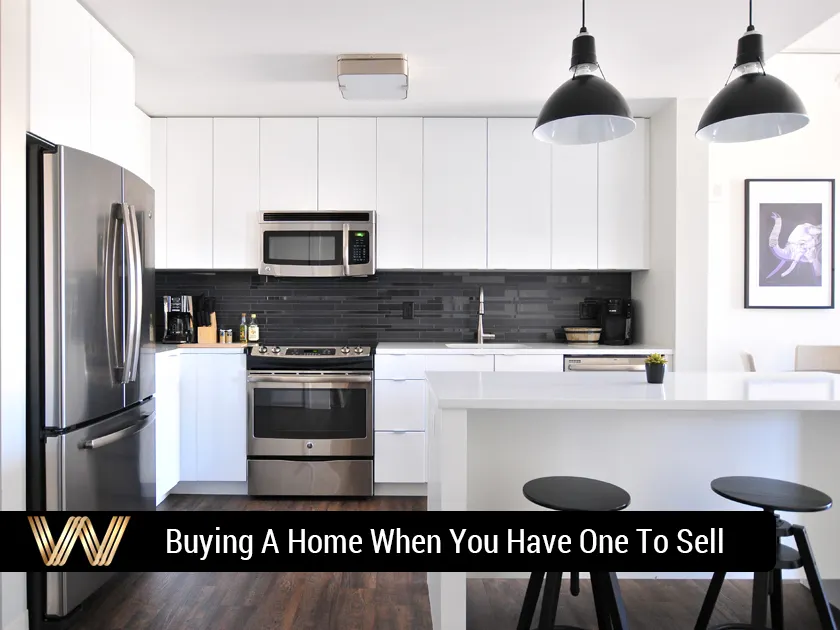 How to buy a house when you have one to sell
The hardest time to buy a house is when you already own one. Economically, you need to sell your house to buy the next one, but the Seller of the home you are possibly want to purchase, does not want to be tied down waiting for your home to sell in case things do not close.
This is usually the case in any market but more sure in today's hot market.
In a hot market, a lot of homes attract several offers. As a result, sellers are less likely to accept a conditional deal. Especially one that is dependant on a house sale.
Purchasers need to be in a money position to be competitive, which is hard to accomplish if you already own a home.
Confronted with this scenario, purchasers with a home to sell are challenged with a series of unattractive options:
Choice 1: You can keep writing offers on homes subject to selling your own home, however it's likely you will keep losing out. As a result, you might invest serious time and money investigating homes with long shot of success.
Choice 2: Secure bridging financing from your bank so you can buy prior to you sell. Bridging finance can be exceptionally costly if your house takes a very long time to offer and the approval criteria can be hard to meet.
Choice 3: Sell first and wait to find a home you like when you've sold. If you don't find something quickly you might wind up needing to discover short-term accommodations and paying to move twice.
Option 4: Buy first and take a risk that you can sell your house prior to you require to close on your purchase. This option features no backup strategy and potentially puts pressure on you to accept the first deal that comes your way. You might end up costing less than you ought to simply to offer your home in time. Not a choice for the faint hearted! (Also NOT ADVISED)
You 'd be forgiven for believing that none of those sound especially appealing. But there are other alternatives ...
Alternative options to think about!
Keep your existing home as a rental
Talk to a residential or commercial property manager to find out what your home might rent for. If the numbers accumulate, your existing home might become your first investment home!
Offer first with a long settlement (most popular).
One perk of a hot market is that money buyers are typically versatile on settlement dates. Offer your existing house initially and ask for a 3-4 month settlement, offering you time to find your next home before you have to move. This also provides you clearness on exactly just how much you need to spend on your next house and allows you to take your time and focus on securing the best possible cost.
Sell and after that rent.
This could be the best option if you are moving to a brand-new place. Lots of households pick to rent for 6-12 months to learn more about a location before deciding exactly where to purchase. Check out different suburbs, have a look at local schools, find your favorite local café and scope out amenities like nearby parks and walking tracks.
Entering into a new house can be tough, specifically if you already have a home to offer. Throw kids and animals into the mix and the resulting disruption can make you question why you ever wished to relocate the top place!
Keep in mind, there is a way through it. It may appear like an overwhelming problem, however lots of house owners have actually successfully made the shift while also attaining a great price for their existing home.
We have helped many households through this precise scenario and we would enjoy to help you too. Call us today to book a complimentary consultation to talk through the advantages and disadvantages of each option.
We can also aid with advice on what to do to your home to protect the very best possible price in the fastest quantity of time on the marketplace.
Richard Womeldorf -Your Local Expert In McAllen, TX 78504
When moving to, in, or from McAllen, you will fare better if you work with a local expert. I am here to help. If you have further questions on the McAllen real estate market, you can
Contact Me here
, give me a call at
956-358-3130
, or
drop me an email
and I'll give you the local information needed to ensure a successful, smooth transaction.
Locally born and raised in McAllen, Tx with a focus on customer service, I promise you'll find great success when working with Richard Womeldorf, just as have my past Clients. You can read their reviews reported on Zillow right here.
The purpose of my Blog is to GIVE as much information as I can to help you make informed decisions.
TEXAS REAL ESTATE LAW
TEXAS LAW requires all license holders to provide the "Information About Brokerage Services" form to prospective clients.

Download and Review Here!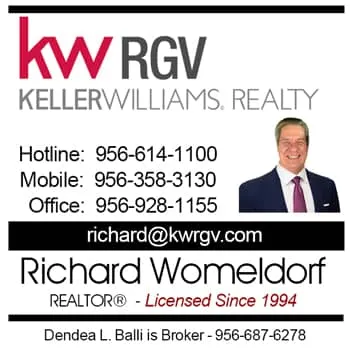 I am a Professional Marketing Expert. . .that SELLS Real Estate.
Use my 29+ years of trusted service to my Clients, to suggest the correct selling price for you as a Seller. -
Contact Me
Let me help you today!
It doesn't cost you to talk with me and discuss if we can work together to achieve your goals and dreams.
Do it today! Use my 24/7 Contact line shown above in photo – TEXT or CALL