McAllen For Sale By Owner Checklist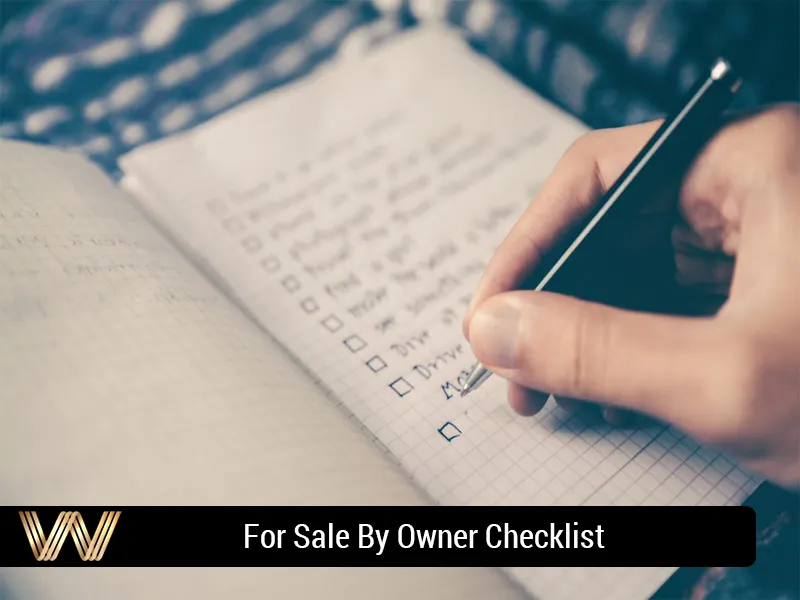 McAllen Tx For Sale By Owner Checklist
Many people believe that in order to get the best price for their home they need to sell it themselves. Why pay thousands of dollars to a broker for a job that they can do themselves? Even though only 10% percent of the homes sold last year were sales by owner, more than 67% of the owners said they would hire a professional the next time around. --Source: National For Sale By Owner (FSBO) Statistics 2022)
This is not to say you cannot complete a successful sale without a professional, but a home owner needs to understand the risks and be as organized and as knowledgeable about the sales process as any agent. Here are some of the main points to consider before you make your decision to fly solo:
Property Value
Realistic pricing of your home is crucial to the successful sale of your property. If it's priced too low, you could potentially lose money. If it's price too high, you may also lose money due to accumulated costs from the home remaining on the market for an extended length of time. The market has been strong for Sellers, but the increasing pressure of over supply and higher prices is finally taking it's toll. When the market is falling, even at a small rate, the price of a home that Buyers are willing to pay for is moving away from your list price. Real estate pricing moves in cycles, or like big waves, and when the cycle is at it's highest, it starts to correct itself and moves down.
Determining the value of your home involves an in depth understanding of your market area. You can begin by doing comparative studies of similar properties that are for sale or that have sold recently in your area. It's probably a good idea to hire an appraiser to give you an accurate market value. Appraisers charge between $ 500 to $600 for a single family home. Real estate agents have access to the market numbers in the MLS, and is a majority of information that Appraisers use. A good experienced Agent can provide, for his Client, these Comparative Market Analysis at no charge as part of his marketing plan.
Marketing
A good Realtor will advertise your home on their own web site, the MLS web site, in print, as well as through word of mouth. You have to compete with this strategy in order to effectively promote your property. Your home needs to stand out amongst all those realtor listings and the longer it remains for sale, the more it will cost you in marketing.
A good place to start is with one of the numerous online 'For Sale By Owner' type sites that offer reasonable advertising packages. You may also want to promote a cash incentive for a sale initiated by a Realtor; otherwise you may experience some sparse open houses.
Commitment
One of the key contributors to a home remaining on the market longer than necessary is the owner's lack of commitment to show the home regularly, and this includes organizing and promoting open houses. A certain amount of time needs to be dedicated each day to selling your home. You will get knocks on your door at any time of the day or night, with a person that wants to "look around" and see if they are interested. This screams "security risk" when you have no idea who this person is, or they even have the financial means to purchase your home.
Dealing With the Customers
One thing Realtors do very effectively is filter out the serious buyers from the window shoppers or lowballers. You will have to learn how to deal with these people and not fall for an offer that you'll regret down the road.
Providing useful information to the potential buyer will lend to your credibility. A Realtor is always waiting in the wings to field questions on financing options, costs of home repairs related to the purchase, recommendations for house inspectors, lawyers, etc.
Meet the Professionals
Get familiar with any inspectors, lawyers or title reps involved in your sale. You don't want a delay in process because you've chosen the wrong people to deal with.
Knowledge of the Legal Process
Many closings have fallen apart due to inaccurate or incomplete paperwork. Have the necessary legal documents ready and know the process inside out. Any financial incentives, or inclusions need to be documented, signed and dated; verbal agreements don't count.
If this all sounds like a lot to think about, it is. Don't worry, many successful sale by owner transactions are completed every year, by home owners who took the time to educate themselves on the process and details of an effective property sale.
Final Thoughts
I offer my experience and 5-Star service to you should you need me in the purchase of your next home. When you have successfully negotiated an contract in escrow and are in the position to purchase your next home, call or text me. I would like to be your Buyer Agent.
Should you find a Buyer and need an experienced Agent to "Close The Deal" and complete all the necessary paperwork, disclosures, and work with the Title Company to a successful closing - CALL or TEXT me and we can have a quick chat.
Richard Womeldorf -Your Local Expert In McAllen, TX 78504
When moving to, in, or from McAllen, you will fare better if you work with a local expert. I am here to help. If you have further questions on the McAllen real estate market, you can
Contact Me here
, give me a call at
956-358-3130
, or
drop me an email
and I'll give you the local information needed to ensure a successful, smooth transaction.
Locally born and raised in McAllen, Tx with a focus on customer service, I promise you'll find great success when working with Richard Womeldorf, just as have my past Clients. You can read their reviews reported on Zillow right here.
The purpose of my Blog is to GIVE as much information as I can to help you make informed decisions.
TEXAS REAL ESTATE LAW
TEXAS LAW requires all license holders to provide the "Information About Brokerage Services" form to prospective clients.

Download and Review Here!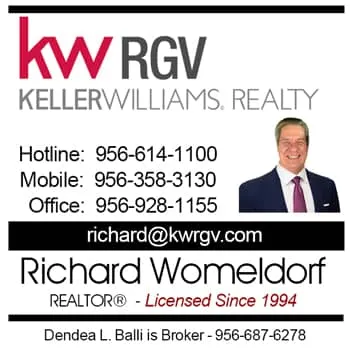 I am a Professional Marketing Expert. . .that SELLS Real Estate.
Use my 29+ years of trusted service to my Clients, to suggest the correct selling price for you as a Seller. -
Contact Me
Let me help you today!
It doesn't cost you to talk with me and discuss if we can work together to achieve your goals and dreams.
Do it today! Use my 24/7 Contact line shown above in photo – TEXT or CALL