Real Estate Negotiation Tips For Buyers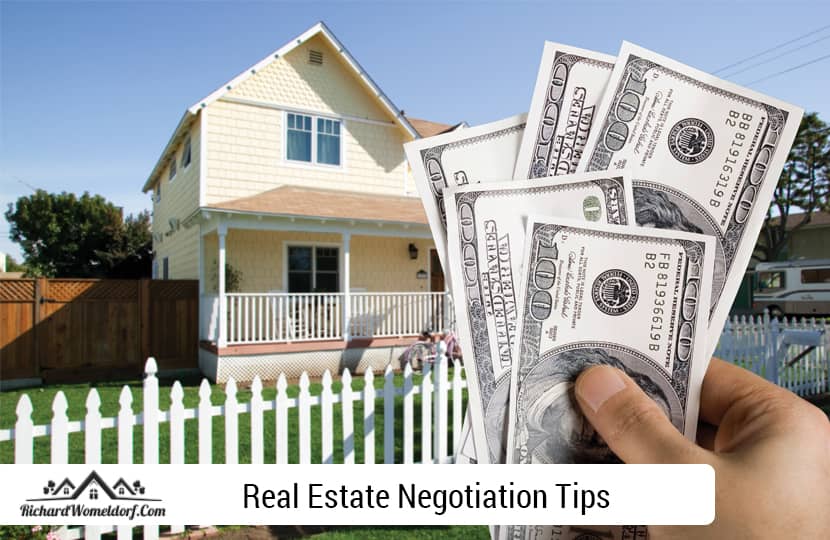 Negotiating is an art form, a type of communication.
It is a "dance" of give and take. The person who does not study the strategies of negotiating usually is going to be on the lesser end of the deal.
Remember your main goal: To Get The Property!
If you feel that you are stuck in negotiating some minor details, a good decision will be letting them wait till you agree on the major points.
How do you avoid mistakes during a negotiation? It doesn't matters if you are buying a house of your dreams for the first time, or just got carried away in the rush of the negotiation intensity, no one is protected from making mistakes.
It takes practice to be a good negotiator. Most people only buy or sell real estate, once or twice in a lifetime. This doesn't allow a person time to practice on one of the largest financial deals of their lives. Let me offer some key points to help you win that deal.
Be Nice!
No one likes rude people. If you somehow offended your future seller during a house visit, for example, by discussing all necessary renovations and poor taste of the current owners – they probably will not want to sell their beloved house to you personally.
Think Like A Seller
Take a different look at this situation – imagine you have to sell this house in two, five or ten years.
Will it be possible, or does it lack some basic features that, during decreasing market situation, will become essential?
Be Calm!
Never express too much interest!
Most of the specialists agree that when sellers see how desperately you want this house to become yours, they do not believe your first offer and they will definitely counter offer.
To avoid this situation, you should always play it cool, no matter how perfect this property appears to you.
Get Help!
Saving money on real estate agents and attorneys may cost you thousands if something goes wrong.
Be cautious with extremely cheap services, if they are significantly lower than the average market price in your area, as the lack of the professionalism may cause significant losses in the future, so pick your team carefully.
Also, do not rely solely on yourself, especially if you are going through the house buying process for the first time.
With so much information available online and information that you have, you have all chances to spend all your time researching and analyzing before you can proceed to close the deal.
Use A Middleman!
A good real estate agent can act as your middleman and negotiate with your seller's representative.
Using him as a buffer will not only save you time, but it may also provide you with useful information concerning the sellers, their intentions, etc. which the other party will not disclose to you directly.
Wait for the "Decision Maker"
This tactic is somehow tricky. You need to have a sense that the person you are dealing with, is not the decision maker. If you hear that a third party (attorney, parents, professional friend of the family) need to see and evaluate the offer and give his or her expertise, you are in this strategy.
The other side is going to use "the other person" as the reason for not accepting your offer, or not being able to agree to some of the terms of your offer.
You will need to proceed with caution. If the other side has sent a counter offer to you, this is a chance to lower the seller's counter-offer and keep your positions.
In addition, there is the waiting factor, which the seller can naturally perceive as you considering other options. This is a nerve wrecking position, and can end in a broken deal.
Now is the time to keep your goal in mind. To Get The Property!
Consider A Compromise!
Asking questions may reveal some valuable information from the seller and might help you to discover the reason as to why the house is being sold, which could be your priceless leverage.
If you think that you might lose and fail the whole deal at one point or another, be ready to give away something during the negotiation.
As they say, compromise means that you agreed in the end, but both of you left with a feeling that you backed off.
Do Not Expect the Price to Get Lower After Inspections!
Bid lower than you can pay, and make your final offer with the most comfortable price that you can afford.
Repairs after the inspections most likely will not cost the seller millions, so do not keep your hopes high on this account.
Consider any future revealed issue as a possible subject of renegotiating on some points, although be ready to go through with what you have already signed up for.
Calculate All Future Costs!
Budgeting is essential during the purchase, as the amount that you pay is not just the price of the house.
Besides payments to the agent and attorney, there are escrow payments, deposit and down payments, the title search and insurance, and many more.
You definitely need to estimate your abilities and decide for yourself, if you can manage it.
Sign Cautiously!
Make sure you acknowledge all terms and realize all liabilities before you sign any documents.
Once you sign the contract, there is no way to make amendments without renegotiating and signing a new one, which may fail to happen at all.
What If There Are Multiple Offers?
In a seller's market, you probably will not be the only one wishing to buy the same house.
Sellers might be considering several offers at the same time and making decisions basing on the best offer that is available to them.
They may also play with one potential buyer, sending him a counter-offer and say no to all the others.
You, as a buyer, will never know although there are main points on how to stand out in the case of the multiple offers.
The best way to protect yourself from failing is to simply make your offer better than what others have made. Usually, your real estate agent will be able to tell if there is a chance for the existence of multiple offers, and you should act accordingly.
At first, receiving a pre-approval for the mortgage will be a good start to becoming the best potential seller's choice as the statement is issued based on your credit report, bank statements, etc. and it shows your ability to pay for your possible purchase.
Also, let the seller know the financial options that you have: some mortgage conditions and funding programs are more attractive and may influence seller's decision.
Bid close to his price — there is no much sense in offering significantly less than he wants on a market that is selling.
By doing this, you will save your time on continuous counter-offering process.
It would be helpful to review the contingencies list because the fewer clauses you have there, the more attractive your offer appears to the seller.
However, it is recommended not to remove home inspection, as the seller will not be liable for any uncovered issues with the house, and you will have to pay for the repairs on your own.
Showing your intentions by making a large good faith deposit and down payment usually convinces the owner of your commitment and may finally tilt the balance towards your proposal.
Negotiating the price is a very stressful period in a house buying process.
You are not sure what the result would be, and exactly how much money you will spend.
In any case, keep in thought that the owner is interested in selling his home, and you are willing to buy it. With a little time and energy, you will be able to do it!
I would like to offer my 27+ years of experience in negotiating offers to help you.
Richard Womeldorf -Your Local Expert In McAllen, TX 78504
When moving to, in, or from McAllen, you will fare better if you work with a local expert. I am here to help. If you have further questions on the McAllen real estate market, you can Contact Me here, give me a call at 956-358-3130, or drop me an email and I'll give you the local information needed to ensure a successful, smooth transaction.
Locally born and raised in McAllen, Tx with a focus on customer service, I promise you'll find great success when working with Richard Womeldorf, just as have my past Clients. You can read their reviews reported on Zillow right here.
Richard Womeldorf Real Estate Reviews.
The purpose of my Blog is to GIVE as much information as I can to help you make informed decisions.
TEXAS REAL ESTATE LAW
TEXAS LAW requires all license holders to provide the "Information About Brokerage Services" form to prospective clients. Download and Review Here!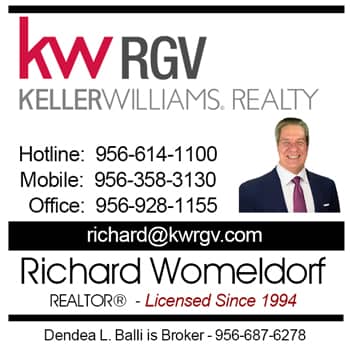 I am a Professional Marketing Expert. . .that SELLS Real Estate.
Use my 27+ years of trusted service to my Clients, to suggest the correct selling price for you as a Seller. - Contact Me Let me help you today!
It doesn't cost you to talk with me and discuss if we can work together to achieve your goals and dreams.
Do it today! Use my 24/7 Contact line shown above in photo – TEXT or CALL
Always use an Experienced Agent – My Info Directory will guide you to all my information
You can communicate and find me on my social links – Connect with me any time.