Three Popular Kitchen Layouts - Pros and Cons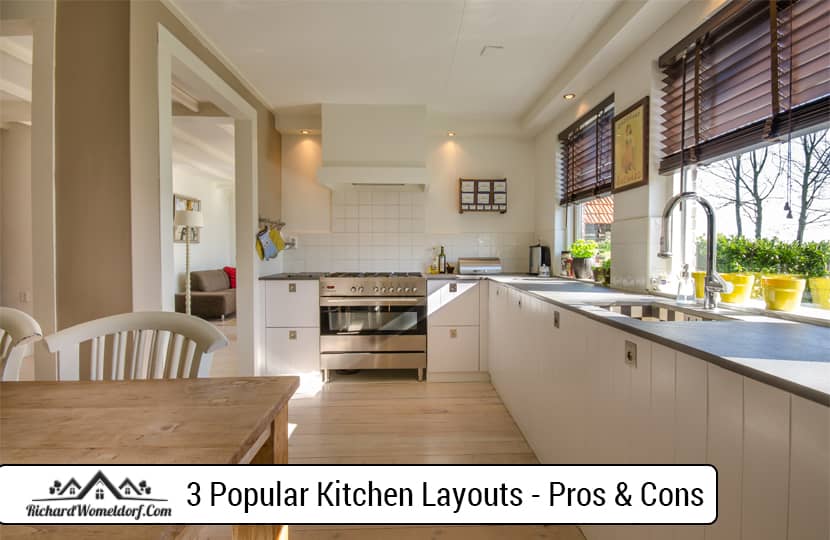 In my 27+ years as a REALTOR® representing Buyers in their quest to find "that perfect home" for their family. . .
. . . I have to say that the KITCHEN is probably the MOST IMPORTANT part of home shopping. Some years back it leaned more toward the Family Room and a lot about the flow of the home.
In this day and age, Buyers are looking for really Open Concepts and with that said. . .
. . . The KITCHEN is the "anchor" of this new flow into the Family Room or the Great Room of the house. There are as many ways to build a Kitchen as there are spokes on a wheel.
But in general, it boils down to the BIG Main 3.
U-Shaped – L-Shaped – Galley Styled Kitchens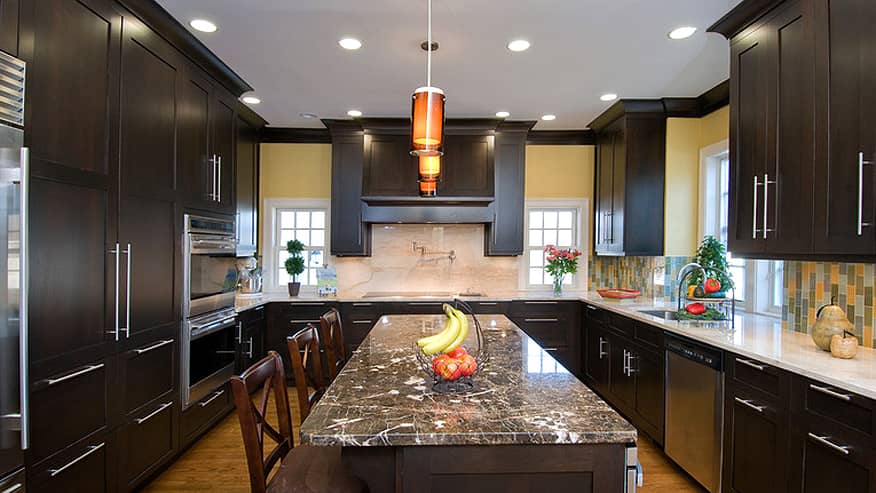 U-SHAPED KITCHENS
U-shaped kitchens are more common in older homes and smaller residences (such as apartments and townhomes), but you can also find them in modern builds.
Pros: U-shaped kitchens utilize three walls or cabinet sections, so you'll probably have good storage space relative to the size of your kitchen. Since your appliances will be closer together (especially in smaller kitchens), you won't have to walk to the other side of your kitchen for food prep or cleanup. Last, some homeowners prefer closed kitchen designs, and a U-shaped design will keep the space separate from living and dining areas.
Cons: U-shaped kitchens often feel cramped because of how close your appliances are located to one another. As a result, you may not have enough room to operate during meal prep, and cooking may not be a functional process for you. Cabinetry isn't always easy to access due to corners. An island is usually out of the question. Yes, some homeowners prefer closed-off kitchen spaces, but many homebuyers want an open-concept design, especially in today's housing market. Many U-shaped kitchens can feel isolated from the rest of your home's living space. Large designs will have a spread-out work triangle, which can be an inconvenience.
If you're looking for ways to turn your U-shaped kitchen into an open-concept design, knocking down a wall can do just that. You can create a peninsula with bar-style seating once the wall is removed and then feel connected to adjacent spaces.
You may also be able to knock down two of your existing walls or design a U-shaped kitchen with only one full-height wall.
Some U-shaped kitchens are large enough to host an island. Walkways between cabinetry must be at least 36 inches wide, so one of your kitchen walls must span at least 12 feet to fit a 24-inch deep island.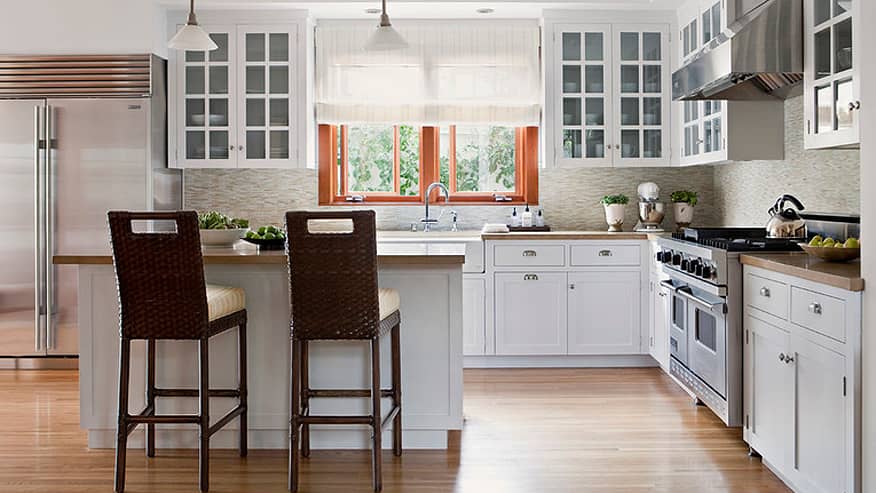 L-SHAPED KITCHENS
These types of kitchen layouts use two walls or sections of cabinetry, forming an L. They usually include an island in the middle.
Pros: L-shaped kitchens provide the consummate open-concept cooking experience. They're ideal for entertaining and socializing, and can transform your kitchen into the true hub of the home. If we take layouts at face value, L-shaped kitchens are the most island-friendly layout because of how spacious they are. They have sufficient counter and storage space when they include an island. You can also better opt for work zones instead of the traditional work triangle in L-shaped kitchens.
Cons: You almost always need an island to ensure that you have enough workspace. This added expense may not suit your budget. An island may not suit your cooking style either. The work triangle is more spread out in L-shaped kitchens. While some homeowners appreciate the space, others will grow tired of walking back and forth between their stove, sink and refrigerator. There's usually more to clean. L-shaped kitchens often require more finishing material, and they can carry a higher price tag than galley kitchens and small U-shaped kitchens.
L-shaped kitchens don't always need an island. For some homeowners, less is more when it comes to cabinetry. You can also open up one of the walls in your L-shaped design.
You can also double up on storage and prep space by designing an L-shaped island.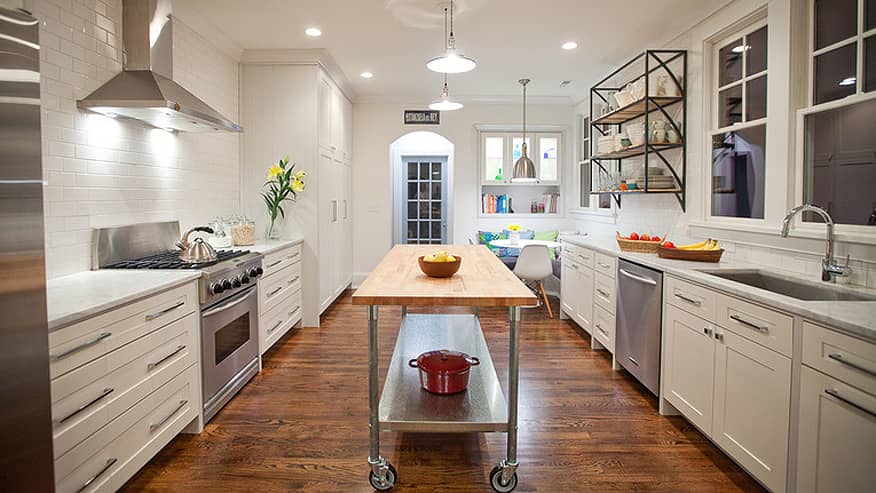 GALLEY KITCHENS
A galley kitchen has one pass-through between two sections of cabinetry. These sections may be composed of closed walls, partially open walls or an island.
Pros: Galley kitchens maximize space and make for efficient cooking zones. Your appliances are organized and easily accessible. They offer versatility to homeowners. They can be open or closed concept. They can take advantage of limited space you may already have or save space when you're designing a new home. Galley kitchens tend to be smaller; you won't have to spend a fortune on finishing materials like cabinets, countertops and backsplashes, nor will you spend a lot of time cleaning up. Cabinetry is fully functional and accessible.
Cons: On the flip side, the smaller size can be a drawback. If you want a supersize kitchen with ample storage and counter space, you may not find a galley design sufficient. Particularly, upper cabinetry can be limited in some designs. If you're designing a new home and considering a galley kitchen, you may not have room to expand 10 years down the road.
Galley kitchens don't have to be closed concept. You can open up one of your galley kitchen's walls to provide additional seating space and connect the space to the rest of your home.
A small island, whether it's built in or on wheels, can add storage and prep space to a galley kitchen. Just make sure you leave enough room to comfortably navigate around it.
A more modern rendition of the galley kitchen features one wall of cabinetry with an island.
Kitchen design is so critical to the home buying process in today's market.
Imagine any one of these designs flowing into the Family Room, with a Fireplace, or a ceiling height rear window, overlooking the back patio or yard.
Imagine any one of these designs connecting to one side, your formal dining area, and also to the other side the large open Family Room.
I have seen many Builders using these concepts in their home building efforts. If you would like for me to help you find your Dream Home, call or text me. Here is my Contact Info.
Richard Womeldorf -Your Local Expert In McAllen, TX 78504
When moving to, in, or from McAllen, you will fare better if you work with a local expert. I am here to help. If you have further questions on the McAllen real estate market, you can Contact Me here, give me a call at 956-358-3130, or drop me an email and I'll give you the local information needed to ensure a successful, smooth transaction.
Locally born and raised in McAllen, Tx with a focus on customer service, I promise you'll find great success when working with Richard Womeldorf, just as have my past Clients. You can read their reviews reported on Zillow right here.
Richard Womeldorf Real Estate Reviews.
The purpose of my Blog is to GIVE as much information as I can to help you make informed decisions.
TEXAS REAL ESTATE LAW
TEXAS LAW requires all license holders to provide the "Information About Brokerage Services" form to prospective clients. Download and Review Here!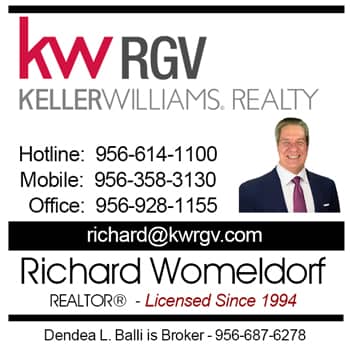 I am a Professional Marketing Expert. . .that SELLS Real Estate.
Use my 27+ years of trusted service to my Clients, to suggest the correct selling price for you as a Seller. - Contact Me Let me help you today!
It doesn't cost you to talk with me and discuss if we can work together to achieve your goals and dreams.
Do it today! Use my 24/7 Contact line shown above in photo – TEXT or CALL
Always use an Experienced Agent when buying or selling real estate.
View My Info Directory will guide you to all my information.
You can communicate and find me on my social links – Connect with me any time.