What Is My Home Worth In McAllen Texas?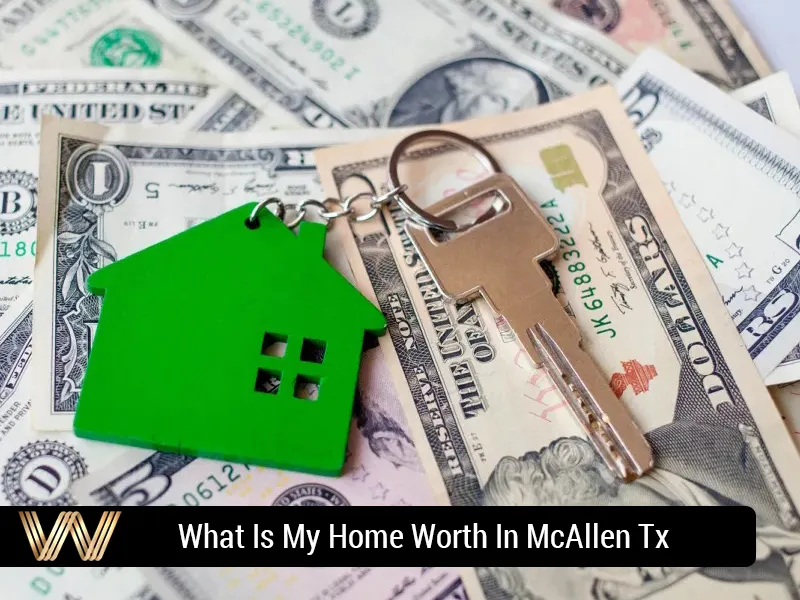 What Is a FREE Appraisal?
If you own a home already, you have probably been offered a 'free appraisal' dozens of times from local real estate salespeople in your area.
You may be wondering: What does a 'free appraisal' actually involve? Should you get one? And what's the catch?
I want to clear up miss use of the term "Appraisal" and "What Your Home Is Worth."
Real Estate Agents and Brokers, generally run ads offering a "Free Appraisal", or a "Free Analysis To Tell You What Your Property Will Bring." This is not true. I am a Licensed Real Estate Agent for almost 30 years now, and not a licensed Appraiser. There is a difference.
Licensed Real Estate Brokers and Agents are not licensed to give you an Appraisal which establishes a VALUE of the property, that can be used in Lending and in Courts of Law. (I do have certification and YEARS of experience in creating CMA reports for my Clients.)
Is a CMA close to an Appraisal?
Real estate agents use CMAs to help home sellers determine a realistic asking price. Experienced agents often come very close to an appraisal price with their CMAS, but an appraiser's report is much more detailed–and is the only valuation report a bank will consider when deciding whether or not to lend the money.
What can a CMA not do and why?
CAUTION: A CMA is limited to establishing the asking or offering price for a specific property for a specific client. Any activity that attempts to establish a value for property for any purpose outside of this limited scope does not fall under the definition of a CMA and requires a licensed appraiser.
What Can A Homeowner Do To Find A Fair Price?
As a homeowner, it can be difficult to accurately work out the value of your property. There are online tools available now that will provide a computer-generated estimate but they only offer a rough guide and can be wildly inaccurate since they are not based on a personal inspection of the property. They also won't take into account any recent changes or renovations you have made. Zillow Estimates are, in my opinion and experience, always wrong. They tend to be 20-30% higher than the local market.
You may be thinking about selling your home on your own, without paying a real estate agent a commission. I understand your position and would like to help you find your next home by helping you sell your current one. Call me for a CMA and it is free of charge to you. Let's see if I can help you.
It's important for owners to understand the value of their property so they can make informed decisions. If you are thinking of moving, you need to know what you might get for your current home, so you can understand how much you have to spend on your next home. Or whether you should keep your current home as a rental.
At the same time, you probably don't want to spend large sums of money on an official appraisal report until you have an actual sale in progress. Normally the Buyer's Lender orders the appraisal for the loan requirements.
That's where we come in! As a service to members of our community, we provide free Comparative Market Analysis (CMA) estimates to help you make informed real estate decisions. You don't even have to be planning on moving in the immediate future. We are happy to help regardless of your time frame.
Why would we do this for free?
It's an opportunity to show you what we do. To build a relationship and offer specialist advice. We love being able to use our skills to help others. Hopefully, if we do a good job, you might consider using our services if and when the time comes to sell. Or, you might provide us with the ultimate compliment by recommending us to one of your friends or family who need real estate help.
If you are thinking of moving soon, it is critical that you hire a competent real estate salesperson to represent your interests. A free appraisal gives you a relaxed, no-obligation opportunity to evaluate our service and to see if we are the right fit to work with you and help you achieve the best possible result.
So there really is no catch. We provide free appraisals to members of our community to help them make smart decisions. We do it without obligation, in the hope that we have earned the opportunity to be considered for the job when you need a top agent to help you achieve a successful move.
It's About More Than Just Price
Smart owners understand that a real estate salesperson can offer far more than just an estimated market value. With all our experience, we understand what improvements will add maximum value and what features buyers are looking for (and paying more for) right now. We can help you decide which potential changes to your home will give you the best return on your investment and save you from over-capitalizing on the wrong improvements.
We can also offer advice on timing the market, when to sell to maximize your chances of obtaining a premium, advice on selling tenanted properties, and strategic suggestions on how to sell your home to get top dollar.
Can a buyer order a free appraisal too?
You might be wondering if free appraisals extend to properties you are looking to buy? This isn't usually how they work, but our offer to help still stands. If you are looking at a property and need advice, give us a call and we will do our best to help (no matter who that property is listed with).
We may be able to share recent comparable sales, advice on the area or info on similar properties currently on the market.
Get in touch today to book your free Comparative Market Analysis. We look forward to meeting with you.
Richard Womeldorf -Your Local Expert In McAllen, TX 78504
When moving to, in, or from McAllen, you will fare better if you work with a local expert. I am here to help. If you have further questions on the McAllen real estate market, you can
Contact Me here
, give me a call at
956-358-3130
, or
drop me an email
and I'll give you the local information needed to ensure a successful, smooth transaction.
Locally born and raised in McAllen, Tx with a focus on customer service, I promise you'll find great success when working with Richard Womeldorf, just as have my past Clients. You can read their reviews reported on Zillow right here.
The purpose of my Blog is to GIVE as much information as I can to help you make informed decisions.
TEXAS REAL ESTATE LAW
TEXAS LAW requires all license holders to provide the "Information About Brokerage Services" form to prospective clients.

Download and Review Here!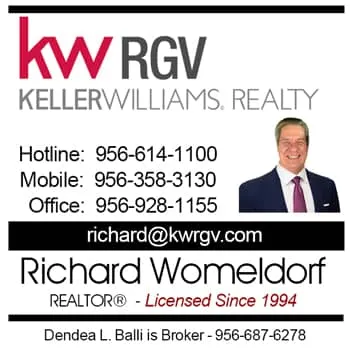 I am a Professional Marketing Expert. . .that SELLS Real Estate.
Use my 29+ years of trusted service to my Clients, to suggest the correct selling price for you as a Seller. -
Contact Me
Let me help you today!
It doesn't cost you to talk with me and discuss if we can work together to achieve your goals and dreams.
Do it today! Use my 24/7 Contact line shown above in photo – TEXT or CALL