What To Look For When Viewing A Home in McAllen Tx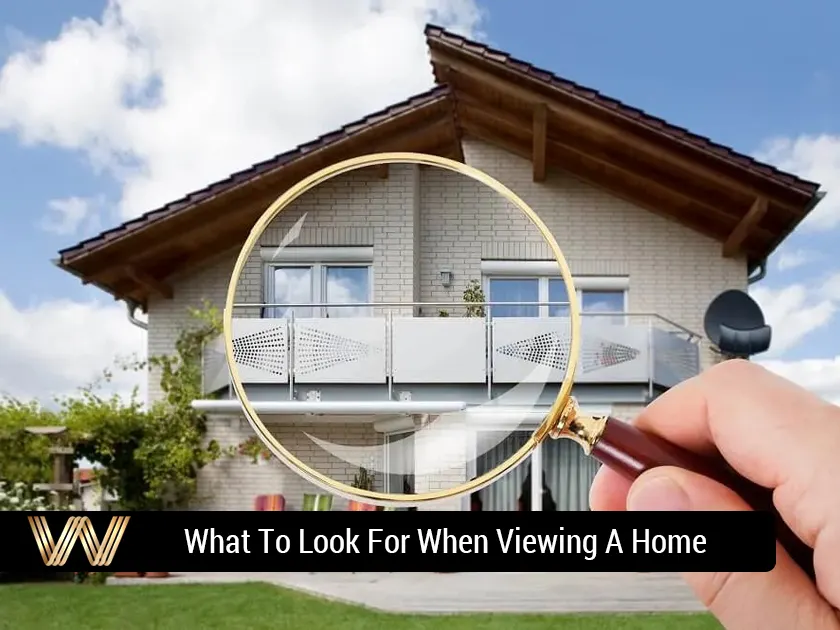 What To Look For When Viewing A Home in McAllen Texas
Do not you find it crazy that we can decide to purchasing a house to reside in after just one or two brief property showings?
It really is important that you take advantage of each showing so you can understand any house you are thinking about purchasing. To find out how it flows.
You really need to define some benchmarks, to work out its good points (and bad points), so you can make informed decisions when it's time to make an offer.
If you visit during an open home, it can be easy to become distracted by the other buyers present. It's easy to fall under the trap of spending more time sizing up the competition than you do measuring the bed rooms.
Use these 6 pointers to keep your showing on track and take advantage of the short time you have prior to deciding if this house is "The One."
1. Check out the sun aspect
You can go through a home with a fine-tooth comb, checking paintwork for damage, checking drapes for mold and inspecting for damage, only to walk away without even considering the sun orientation to the home. It's particularly simple to miss this crucial point on a cloudy day.
In South Texas, when shopping for homes in McAllen, this is a BIG FACTOR for you. Besides the mortgage payment, electricity will be the next BIG expense that endures for years. The majority of the year the temperatures are high to very high during the June to August months. You want to pay attention to the way your "future home" will sit and which sides face the sun.
Take a compass with you to the house so you can examine the orientation and understand which spaces will have sun in the early morning vs. afternoon. If the house feels dark, can that be improved by trimming large trees or hedges? Or including extra windows?
Back yard activities by a pool or a large B-B-Q area will be affected by the direction of the canopies or shade.
2. Consider storage
It's an uninteresting feature however oh-so-important when you turn up to move in with all your things and discover there's no place to put it. Check for closets naturally, but consider restroom and kitchen storage too. Is there attic area? Could you include attic stairs to make roof storage simpler to access? The underfloor might have prospective for extra storage too. Inspect outdoor areas also. Is there a garden shed, or room to add one?
3. If you have big furniture take a paper design template with you
This might sound strange but a terrific pointer. I heard once was to cut a piece of paper (or tape some together) in the shape of your large piece of furniture, then fold it up and take it with you to open homes. If you have a big sofa, grand piano, or possibly a monstrous bookshelf, you can roll your paper template out on the flooring in the home you are considering to get a concept of how much floor area that item will use up in your brand-new house.
4. Drive past the home at night
This will help offer you a much better understanding of the neighborhood, especially if you come by on the weekend. Are there loud noises coming from your homes next door? Stop the automobile and take a walk around. Does this area feel like home?
5. Look past minor cosmetic defects
Try to overlook paint colors, carpet, curtains and furnishings if they are putting you off. It's much easier stated than done but this is a best time to remember that you can alter anything about a home, except where it is located.
That does not mean you should ignore structural defects or hazard issues with the home. It means that if the house has good flow and appears in good shape, items like carpeting, paint, and drapes can be changed for not too much money.
6. Have a minute of silence
It can be awkward to have silent moments around strangers, but it's crucial to keep in mind this action when purchasing a house. If you are the only buyers present, ask everybody to be peaceful and simply take a moment to be in the home. What can you hear? Exist birds singing outside? Or can you hear the low hum of a nearby motorway?
Your sensitivity to exterior sounds will fade over time once you move into a house but it's nice to understand what you are working with. That way you won't relocate and get a shock when you finally get to sit down and delight in some solitude in your brand-new house.
If a private viewing isn't possible, go back to point 4. Park outside the home when it's peaceful, put your window down and see what you can hear. Bearing in mind that any noises will be reduced when you are inside the house.
Are you prepared to begin looking?
Give me a call to talk through your buying criteria. We can keep you posted on any new properties pertaining to the marketplace that may match.
Do you need an Comparative Market Analysis first?
If you own a house already, you might be wondering just how much you might get for it. That will help you exercise just how much you'll have to invest in the next home.
The marketplace has moved a lot this year so it's important you have accurate, updated assistance. We can offer you an approximate list price quote and likewise supply pointers on where you might be able to increase value to your house with very little expenditure prior to going to market.
Call me today book your free Comparative Market Analysis.
Richard Womeldorf -Your Local Expert In McAllen, TX 78504
When moving to, in, or from McAllen, you will fare better if you work with a local expert. I am here to help. If you have further questions on the McAllen real estate market, you can
Contact Me here
, give me a call at
956-358-3130
, or
drop me an email
and I'll give you the local information needed to ensure a successful, smooth transaction.
Locally born and raised in McAllen, Tx with a focus on customer service, I promise you'll find great success when working with Richard Womeldorf, just as have my past Clients. You can read their reviews reported on Zillow right here.
The purpose of my Blog is to GIVE as much information as I can to help you make informed decisions.
TEXAS REAL ESTATE LAW
TEXAS LAW requires all license holders to provide the "Information About Brokerage Services" form to prospective clients.

Download and Review Here!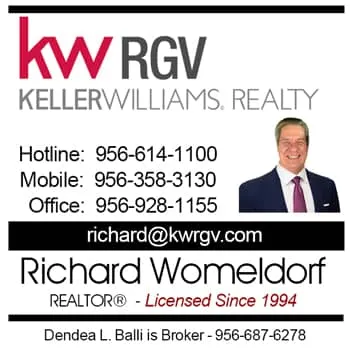 I am a Professional Marketing Expert. . .that SELLS Real Estate.
Use my 29+ years of trusted service to my Clients, to suggest the correct purchase price for you as a Buyer. -
Contact Me
Let me help you today!
It doesn't cost you to talk with me and discuss if we can work together to achieve your goals and dreams.
Do it today! Use my 24/7 Contact line shown above in photo – TEXT or CALL