Why Pricing Your Home Correctly Is Critical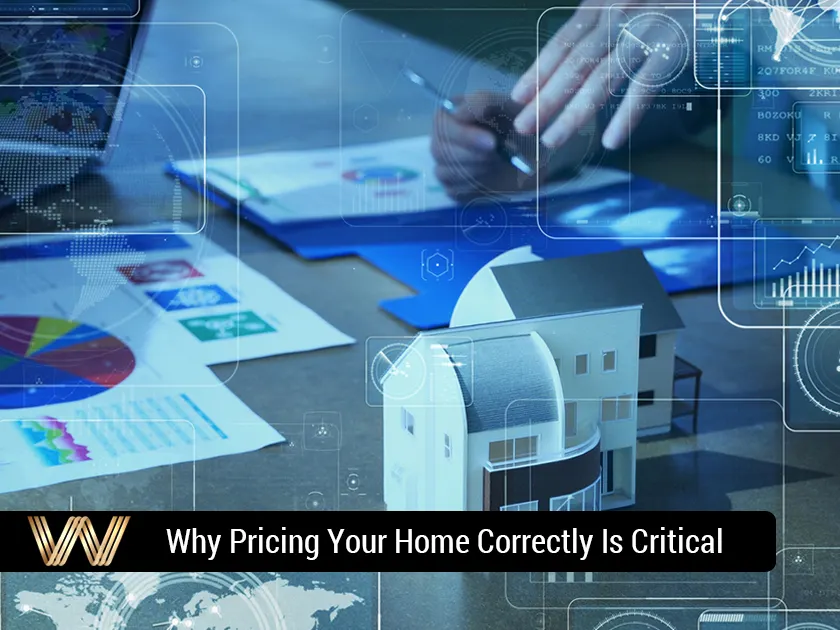 Importance Of Pricing Your Home Correctly
Potential buyers in McAllen, Texas are increasingly more educated on pricing. The way they apply it may be not totally correct. The buyers I speak with ask a few questions. "What's the price?" - "How many square feet does the home have?" - "What is the age?". Online value estimates and all way of market statistics are now simply a few clicks away. Experienced purchasers can find an under-priced home from a mile away.
As I said, this method is quick and does not encompass all the other parts of a (CMA) Comparative Market Analysis of a property. What buyers are doing is looking in a area, or subdivision, that they like and establishing a quick price per square foot price.
Alternatively, when a house is priced 10% too expensive, buyers discover this instantly. As a result, viewings can be surprisingly quiet, even in a raving hot market.
The risks of pricing too low
You just get to sell your home when. This is your once-a-decade chance to increase your net worth.
A superior list price is likely a tax-free gain if you get it right. If you are offering your own house, every extra dollar you get is equivalent to making $1.50 in your regular day job (depending upon your tax rate, obviously).
Selling your home listed below market value leaves a bad taste in your mouth for several years.
The risks of prices too expensive
You fail. Your home will be busiest in its very first couple of weeks on the market, while it's brand-new and fresh. If you don't bring in a purchaser in that initial window, you might wind up costing less later on.
You could wind up remaining on the market longer than you want it to. Nobody likes keeping their home spotlessly tidy for weeks on end. Especially when it winds up costing you money in the form of a lower sale price.
You just get one shot at it. You can't simply change the price to market price after a month on the marketplace and all of a sudden attain a sale. By that time, buyers get suspicious. They decide there must be something wrong or your house would have offered already.
What's the solution?
Expert guidance. If you want to prevent making an expensive pricing mistake, it pays to work with an expert who knows your market inside out.
Use these tips to get the price you deserve ...
Invest in all the marketing approaches available to you. Photography, internet marketing, layout, the works! Give your house every possibility to bring in multiple offers if at all possible.
Do not be in too much of a rush. You do not want to sit on the marketplace forever, however you wish to guarantee every hot purchaser in the market understands your house is for sale when you accept a deal.
Prevent the temptation to 'test' the market with a high asking cost. If you hear yourself thinking "we can constantly lower the rate later on," that's a warning. Over-priced houses remain on the marketplace for longer than average. And when they do sell, it's frequently for less than market price, as purchasers think there must be a problem with the residential or commercial property.
React rapidly. If your very first week on the market is quieter than anticipated, move fast. Adjust your selling price or purchase more marketing to get purchasers through the door. In the modern-day world, purchasers move quickly and you need to too.
Above all ...
Hire the ideal experienced real estate professional to represent you. You should work with an Agent that has good reviews, and you should read them to see how others feel about the Agent's performance.
A good representative can often include 5-10% to the worth of any home by coordinating competitors, recommending on presentation and pitching your home properly to bring in the best buyers.
Most notably, a skilled realty expert will recommend the ideal marketing approach for your home and your market, to guarantee you cost the very best possible price.
We help our customers all the way through the moving procedure, from choosing which pre-sale restorations will include the most value, right through to moving day. So if you are thinking of offering in the next 3 - 9 months, contact us today to book a consultation. We would enjoy to help.
Richard Womeldorf -Your Local Expert In McAllen, TX 78504
When moving to, in, or from McAllen, you will fare better if you work with a local expert. I am here to help. If you have further questions on the McAllen real estate market, you can
Contact Me here
, give me a call at
956-358-3130
, or
drop me an email
and I'll give you the local information needed to ensure a successful, smooth transaction.
Locally born and raised in McAllen, Tx with a focus on customer service, I promise you'll find great success when working with Richard Womeldorf, just as have my past Clients. You can read their reviews reported on Zillow right here.
The purpose of my Blog is to GIVE as much information as I can to help you make informed decisions.
TEXAS REAL ESTATE LAW
TEXAS LAW requires all license holders to provide the "Information About Brokerage Services" form to prospective clients.

Download and Review Here!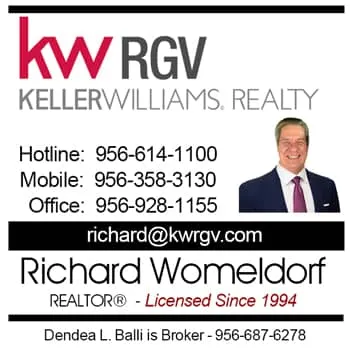 I am a Professional Marketing Expert. . .that SELLS Real Estate.
Use my 29+ years of trusted service to my Clients, to suggest the correct selling price for you as a Seller. -
Contact Me
Let me help you today!
It doesn't cost you to talk with me and discuss if we can work together to achieve your goals and dreams.
Do it today! Use my 24/7 Contact line shown above in photo – TEXT or CALL